April 25, 2022
Dear Neighbors,
Spring is in the air and I hope you are finding time to enjoy the beautiful weather (and avoid the pollen). It has been a busy month for me providing legislative updates and meeting with community organizations, constituents, students and their parents, and local Democratic committees and activists; participating in town hall meetings and policy summits; and enjoying time with my family. But our legislative work is not done.
As you recall, the 2022 General Assembly adjourned sine die with the budget and several related bills still in conference. We expected the Governor to call us in for a special session once the conferees reached an agreement on the budget. Most expected that special session to be in conjunction with the Reconvened Session, which convenes this Wednesday, April 27th, to consider the Governor's amendments and vetoes to bills.
The Governor had other ideas, calling us into special session on April 4th … with nothing to vote on except procedural resolutions.
So we convened.
I reflected on the 54th anniversary of the assassination of Dr. Martin Luther King, Jr. in remarks you can watch here.
As the first Muslim elected to the Senate of Virginia, Sen. Ghazala Hashmi reflected on Ramadan.
Senator Mark Peake (apparently triggered by my remarks about the confirmation of Ketanji Brown Jackson) railed about the confirmation hearings of Robert Bork, Clarence Thomas, and Brett Kavanaugh.
Then we adjourned.
April 11th was the deadline for the Governor to sign, amend, or veto legislation passed during the regular session. He signed about 700 bills, including 10 of mine. He also suggested amendments to about 100 more bills and vetoed 26.
Some of his vetoes are down right petty.
For example, the Governor vetoed 8 of the 9 bills passed by Sen. Adam Ebbin, Chair of the Senate Privileges & Elections Committee (the committee with jurisdiction over confirming gubernatorial appointments). While vetoing some of Sen. Ebbin's bills, the Governor signed identical House versions – proving this was about personal score-settling, not the policy.
He also vetoed bipartisan bills that would rein in slumlords, stop harassment from medical debt collectors, and lower healthcare costs by eliminating an ineffective surcharge on tobacco products.
You can find the full list of the Governor's vetoes here.
One of the Governor's proposed amendments is a blatant power grab to undermine a local election: Del. David Reid's bill to establish a process for staggered school board terms was amended to force the entire Loudoun County School Board to stand for re-election a year before their terms end. This is yet another attempt to undo democratic elections in Loudoun County, after more than a year of political operatives abusing Virginia's lax recall laws to threaten the school board and local prosecutors. I proposed legislation this session to modernize Virginia's recall laws to prevent such abuse.
You can find a complete list of the Governor's proposed amendments here.
The Senate Democratic Caucus held a press conference reacting to the Governor's amendments, which you can watch here.
Stay tuned for the House and Senate to address the Governor's actions this Wednesday!
---
My Legislation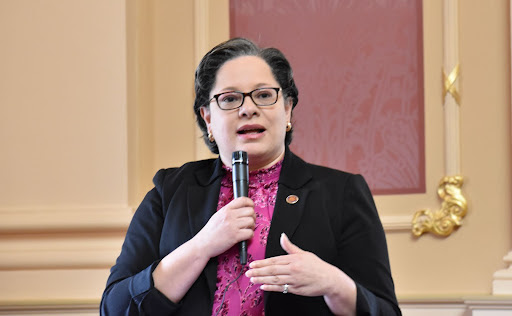 The Governor amended my SB 474, which would enable judges to waive the appeal bond for eviction appeals for indigent defendants. The Governor's amendment basically guts the bill, and I will seek to reject it.
The Governor signed 10 of my 11 bills, all of which passed with bipartisan support and will take effect July 1st:
HEALTH CARE
SB 469 directs the state-based exchange to develop a budget and plan for enhanced marketing and navigator services. This bill is a recommendation of the Joint Commission on Health Care as part of its study addressing health insurance marketplace affordability in the individual market. 
CRIMINAL JUSTICE REFORM AND PUBLIC SAFETY
SB 485 strengthens the Delinquency Prevention and Youth Development Act (DPYDA), which was passed in 1979 to focus on funding prevention services for at-risk youth before they enter the juvenile justice system. SB 485 provides greater flexibility for localities, removing burdensome administrative responsibilities for localities to access DPYDA funding, and providing clearer guidelines for how localities could use the funding. 
SB 493 helps protect Virginians from unsolicited digital intimate photographs by establishing a civil penalty for an adult who knowingly sends an intimate image digitally to another adult who has not consented to or has expressly forbidden receipt of such image. SB 493 only applies to senders, recipients, and images involving individuals above the age of 18, as minors are protected by other laws.
SB 658 requires that physical evidence recovery kits in Virginia be stored by law enforcement for 10 years, or, in the case of a minor victim, until 10 years after the victim turns 18. This bill ends an exemption, requiring storage of physical evidence recovery kits for incidents that are categorized as "no crime occurred." 
VIRGINIA HISTORY AND CULTURE
Under current law, historic African-American cemeteries established before 1900 are eligible for maintenance and preservation support through the Virginia Historical African American Cemeteries and Graves Fund. However, some historic cemeteries – such as Woodland Cemetery in Henrico County, which was founded in 1916 – are not eligible for the fund. SB 477 changes the establishment date eligibility from 1900 to 1948, the year that the U.S. Supreme Court struck down racially segregated cemeteries. 
TRANSPORTATION
SB 476 adds a representative of Richmond International Airport as a member of the Central Virginia Transportation Authority (CVTA). The CVTA currently includes ex-officio members from the Virginia Department of Rail and Public Transportation, the Virginia Department of Transportation, the Virginia Port Authority, the airport Greater Richmond Transit Company, and the Richmond Metropolitan Transportation Authority. The bill will add Richmond International Airport to provide the CVTA a more complete picture of regional transportation needs and issues. 
SB 478 authorizes the Capital Region Airport Commission – the entity that owns and operates Richmond International Airport –  to make charitable donations and provide assistance to educational and charitable entities, organizations and programs. These endeavors will be designed to foster an appreciation by the public of the importance of aviation, assist the public in aviation travel, or help develop and educate the next generation of aviation professionals in the Commonwealth.
OTHER
SB 470 grants easements for the Children's Museum of Virginia to access the new parking deck and greenspace that will be shared space between the Children's Museum and the Science Museum of Virginia.
I also passed two bills recommended by the Virginia Code Commission to make technical amendments to sections of the Code of Virginia dealing with The Administrative Process Act (SB 480) and Health Services (SB 479).
---
Last Call for Virginia Rent Relief Program
The Virginia Rent Relief Program Application Portal closes to new applicants May 15, 2022 at 11:59 p.m. The Program was designed to provide financial assistance for renters whose income was affected by the coronavirus pandemic.  More than $713 million has been disbursed in rent relief payments through March 31, 2022, according to the Virginia Department of Housing and Community Development (DHCD).
Per DHCD: "Emergency Rental Assistance (ERA) requires a prioritization of assistance for households with incomes less than 50 percent of area median income or households with one or more individuals that have not been employed for the 90-day period preceding the date of application. Any application submitted after April 21, 2022, will be prioritized based on these criteria, then processed on a first-come, first-served basis."   
The full press release can be found here.  For additional resources regarding housing and/or rent relief, please visit stayhomevirginia.com. 
---
To contact me or my staff, please reach out to district09@senate.virginia.gov or (804) 698-7509. To keep up with all the action at the General Assembly and my work in the community, follow me on Twitter, Facebook, and Instagram.
Have a good week!
Jenn
My office is always available to answer legislative questions, assist with contacting state agencies, and more. You can reach us by emailing district09@senate.virginia.gov or by calling (804) 698-7509. 
Thank you,
Jenn McClellan