June 21, 2022
Dear Neighbors,
After months in a conference committee, the General Assembly finally passed the budget on June 1st. As a conference report, the House and Senate could only vote yes or no on the entire budget, not on individual items. 
Like any compromise, there were things in there I liked, including several budget amendments that I sponsored, and things I didn't, like the new marijuana-related criminal penalties, which I spoke against including in the budget. You can find a detailed summary of the 2023-2024 fiscal year budget here and a comparison of the House, Senate, and Conference versions of the budget here.
We returned last Friday, June 17th, to vote on the Governor's amendments to the budget, which you can find here, and several outstanding conference reports.
I opposed several of the Governor's Amendments including amendments to:
Redirect $10 million from need-based financial aid to undocumented students under DACA legislation passed in 2021 to increase financial aid at HBCUs. We have enough money to fund both items, but instead the Governor cynically pitted immigrant students against HBCU students. This amendment passed.   

Narrow the scope of Earned Sentence Credit legislation passed in 2020 and set to take effect July 1st. This legislation allows inmates convicted of nonviolent offenses to earn credit towards their sentence for good behavior or participation in rehabilitation programs. The Governor's amendment prohibits inmates who are serving concurrent sentences for both violent and nonviolent convictions from earning such credits, even though the credit would count towards the nonviolent offense sentence only. This amendment passed. 

Expand authorization for laboratory schools to allow private colleges and universities that are Tuition Assistance Grant eligible to start such schools.  Currently only those public colleges and universities with teacher prep programs have such authority. This amendment passed. However, a related amendment to divert per-pupil funding from public schools to lab schools where a student enrolled failed.

Prohibit state funds from being used for abortion services in the case of severe and incapacitating fetal abnormalities. As I said in floor remarks opposing this amendment on the Senate floor, this amendment essentially tells pregnant Medicaid patients with a devastating fetal diagnosis that they are on their own. This amendment failed in the Senate.

Suspend the gas tax for three months. This amendment would gut state funding for critical transportation projects while likely not changing gas prices at the pump at all. This amendment failed in the Senate.   
Create a Class 6 felony (punishable by up to 5 years in prison) for protesting or picketing with the intent to intimidate outside of a courthouse or residence occupied by a judge, court staff, juror witness, or immediate family member. This is likely unconstitutional, and I oppose creating new crimes in the budget. This amendment failed on a bipartisan basis in the House, so the Senate did not have to address it. 
The full budget now returns to the Governor for his signature before the start of the next fiscal year on July 1st.
---
Budget Overview
Here is an overview of some of the more notable items in the budget that were not amended by the Governor. 
As a member of the Senate Finance and Appropriations Committee subcommittees on K-12 and Education and Health & Human Resources, my top budget priorities this year were to fully fund our K-12 needs, including school construction and increase mental health services, particularly for children. While we did not go as far as I would have liked in each area, we made significant progress. 
Education: The budget makes historic investments in K-12 education, including
Funding for the state's share of a 5.0% pay raise for teachers and support positions, $1,000 per SOQ-funded position for a one-time pandemic bonus for school division employees, and recruitment bonuses of $2,500 for individuals filling vacant positions in fall 2023 and $5,000 if the individual fills a hard-to-staff position or is hired in a hard-to-staff school.

$1.2 billion to localities for school construction and modernization through a combination of grants and loans, with each division receiving a base allocation of $1 million. As Chair of the Commission on School Construction and Modernization, this funding was one of my top priorities, as you can read about here.

$271.7 million to increase the number of state-funded support positions from 17.75 support positions per 1,000 students, to 20 support positions per 1,000 students the first year and 21 support positions per 1,000 students the second year. This partially eliminates the funding cap placed on support positions beginning in FY 2010. I have introduced budget amendments every year for several years to eliminate this cap, and am pleased finally to see substantial progress.  

$62.6 million to provide one reading specialist for every 550 students in kindergarten through third grade as part of The Virginia Literacy Act, which I co-sponsored.

$20.3 million to provide a full-time principal in every elementary school, funding the compromise Standards of Quality bill I sponsored.

$46.9 million to implement several early childhood initiatives, including expanded services for three-year-olds, expanded mixed delivery and early childhood workforce recruitment and retention grants.
Mental Health: The budget provides significant investments in mental health, including 
$22.2 million in ARPA funding and $28.3 million in general funds in FY 2024 to fully implement and fund STEP-VA, a long-term initiative designed to improve community mental health services available to all Virginians.

$55 million for pay increases for employees in state psychiatric hospitals.

$33.8 million for permanent supportive housing to provide stable housing to individuals with serious mental illness.

$31.5 million to support mobile crisis teams and crisis receiving centers.

$10.1 million for a pilot program at Central State Hospital and Southern Virginia Mental Health Institute to provide discharge planning and therapeutic intervention treatment services seven days a week.

$6.9 million for discharge planning services.

$6 million to support implementation of Marcus Alert programs in five additional localities. 
$2.5 million in a School-Based Mental Health Integration Pilot program to provide grants to school divisions to work with community-based providers to provide students with mental health services beyond the scope of school-based personnel. This was based on a budget amendment I sponsored, which requested $10 million. I will seek more funding next year. 

The budget also adopts my budget amendment requesting the creation of a School-Based Mental Health Task Force to make recommendations to expand school-based mental health services and connect mental health clinical interventions to school settings.
Gun Violence Prevention and Intervention: Another priority for me this year was addressing the root causes of gun violence through legislation with Del. Marcia Price to create the Gun Violence Prevention and Intervention Center and a related grant fund, which we discussed in an op-ed last month. Unfortunately, we were not able to reach an agreement on SB 487, which remains in a conference committee. However, the budget provides $6.5 million per year to support gun violence prevention programs through the Department of Criminal Justice Services (DCJS): $2.5 million to support a new Operation Ceasefire grant program, and $4 million per year for grants to community-based organizations through the Virginia Firearm Violence Intervention and Prevention Fund.
My Legislation
When we convened April 7th to act on the Governor's amendments to legislation, the House and Senate rejected the Governor's amendments gutting my SB 474 and Delegate Jeff Bourne's HB 614. These bills allow indigent renters to appeal an eviction order without paying a bond. Unfortunately, the Governor vetoed these bills. Delegate Bourne and I issued a joint statement in response.
This is the first time I've had a bill vetoed!
On a happier note, three of my remaining bills in conference committee passed last week:
SB 473 creates The  School Construction Fund and Program to provide grants to school boards to finance school construction and modernization. Delegate Israel O'Quinn (R-Washington) patroned the House version. SB 473 was a recommendation of the bipartisan Commission on School Construction and Modernization, which I chair after carrying the 2020 legislation that created the Commission.

SB 471 adopts changes to the state Literary Fund to make more money available to local school divisions through loans with lower interest rates than currently allowed by law. This bill was also a recommendation of the Commission on School Construction and Modernization. 

SB 490 revises the Standards of Quality for school principals to ensure that every elementary school in Virginia has a full-time principal, increasing the state share of funding for these positions. This was one of the changes to the Standards of Quality recommended by the Virginia Board of Education. Previously, schools with fewer than 300 students were only required to have a half-time principal. My original bill would have implemented the full recommended Standards of Quality, increasing state funding to local school divisions by $461.9 million over the biennium.
You can review all my 2022 legislation here.
---
Town Hall Meeting
Join me and Delegates Delores McQuinn, Betsy Carr, Jeff Bourne, and Dawn Adams for a Senate District 9 virtual town hall on Thursday, July 21st from 6:00pm-7:30pm. We'll give a legislative update and take your questions on issues facing the Commonwealth. 
You can register for the town hall here.
My Legislation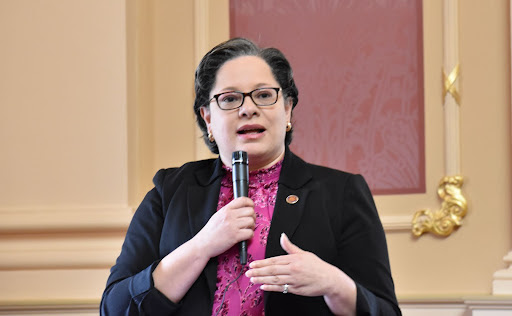 The Governor amended my SB 474, which would enable judges to waive the appeal bond for eviction appeals for indigent defendants. The Governor's amendment basically guts the bill, and I will seek to reject it.
The Governor signed 10 of my 11 bills, all of which passed with bipartisan support and will take effect July 1st:
HEALTH CARE
SB 469 directs the state-based exchange to develop a budget and plan for enhanced marketing and navigator services. This bill is a recommendation of the Joint Commission on Health Care as part of its study addressing health insurance marketplace affordability in the individual market. 
CRIMINAL JUSTICE REFORM AND PUBLIC SAFETY
SB 485 strengthens the Delinquency Prevention and Youth Development Act (DPYDA), which was passed in 1979 to focus on funding prevention services for at-risk youth before they enter the juvenile justice system. SB 485 provides greater flexibility for localities, removing burdensome administrative responsibilities for localities to access DPYDA funding, and providing clearer guidelines for how localities could use the funding. 
SB 493 helps protect Virginians from unsolicited digital intimate photographs by establishing a civil penalty for an adult who knowingly sends an intimate image digitally to another adult who has not consented to or has expressly forbidden receipt of such image. SB 493 only applies to senders, recipients, and images involving individuals above the age of 18, as minors are protected by other laws.
SB 658 requires that physical evidence recovery kits in Virginia be stored by law enforcement for 10 years, or, in the case of a minor victim, until 10 years after the victim turns 18. This bill ends an exemption, requiring storage of physical evidence recovery kits for incidents that are categorized as "no crime occurred." 
VIRGINIA HISTORY AND CULTURE
Under current law, historic African-American cemeteries established before 1900 are eligible for maintenance and preservation support through the Virginia Historical African American Cemeteries and Graves Fund. However, some historic cemeteries – such as Woodland Cemetery in Henrico County, which was founded in 1916 – are not eligible for the fund. SB 477 changes the establishment date eligibility from 1900 to 1948, the year that the U.S. Supreme Court struck down racially segregated cemeteries. 
TRANSPORTATION
SB 476 adds a representative of Richmond International Airport as a member of the Central Virginia Transportation Authority (CVTA). The CVTA currently includes ex-officio members from the Virginia Department of Rail and Public Transportation, the Virginia Department of Transportation, the Virginia Port Authority, the airport Greater Richmond Transit Company, and the Richmond Metropolitan Transportation Authority. The bill will add Richmond International Airport to provide the CVTA a more complete picture of regional transportation needs and issues. 
SB 478 authorizes the Capital Region Airport Commission – the entity that owns and operates Richmond International Airport –  to make charitable donations and provide assistance to educational and charitable entities, organizations and programs. These endeavors will be designed to foster an appreciation by the public of the importance of aviation, assist the public in aviation travel, or help develop and educate the next generation of aviation professionals in the Commonwealth.
OTHER
SB 470 grants easements for the Children's Museum of Virginia to access the new parking deck and greenspace that will be shared space between the Children's Museum and the Science Museum of Virginia.
I also passed two bills recommended by the Virginia Code Commission to make technical amendments to sections of the Code of Virginia dealing with The Administrative Process Act (SB 480) and Health Services (SB 479).
---
Last Call for Virginia Rent Relief Program
The Virginia Rent Relief Program Application Portal closes to new applicants May 15, 2022 at 11:59 p.m. The Program was designed to provide financial assistance for renters whose income was affected by the coronavirus pandemic.  More than $713 million has been disbursed in rent relief payments through March 31, 2022, according to the Virginia Department of Housing and Community Development (DHCD).
Per DHCD: "Emergency Rental Assistance (ERA) requires a prioritization of assistance for households with incomes less than 50 percent of area median income or households with one or more individuals that have not been employed for the 90-day period preceding the date of application. Any application submitted after April 21, 2022, will be prioritized based on these criteria, then processed on a first-come, first-served basis."   
The full press release can be found here.  For additional resources regarding housing and/or rent relief, please visit stayhomevirginia.com. 
---
To contact me or my staff, please reach out to district09@senate.virginia.gov or (804) 698-7509. To keep up with all the action at the General Assembly and my work in the community, follow me on Twitter, Facebook, and Instagram.
Have a good week!
Jenn
My office is always available to answer legislative questions, assist with contacting state agencies, and more. You can reach us by emailing district09@senate.virginia.gov or by calling (804) 698-7509. 
Thank you,
Jenn McClellan